MEMORIALS
WAR MEMORIALS
The memorial database includes texts, images, links to internet sites and a virtual war memorial collection. There are several ways to find the memorials you are looking for.
1. MEMORIALS BY CONFLICT
If you are looking for memorials that relates to a specific conflict you should use this page.
2. MEMORIALS BY COUNTRY OR DESIGNER
There are several ways to find a specific, physical war memorial (i.e built structure): browse a strightforward list of countries, or use the interactive Flash map, or the quick-jump menu below to find a list of memorials for a specific country.
You can also search for memorials created by a specific designer, architect, artist, organisation etc.. by using the quick-jump menu below.
3. NEW! GEOCODED MEMORIALS AT GOOGLE MAPS
Many of the built war memorials in the database have been geocoded and added to this Google map.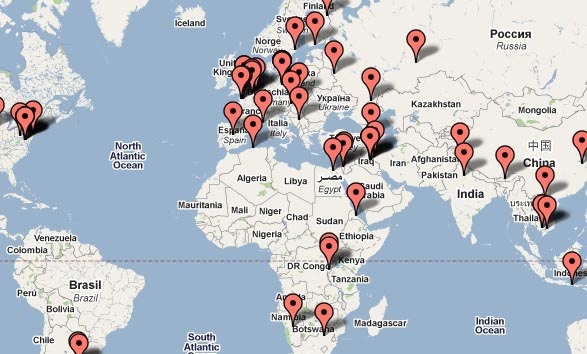 4. VIRTUAL WAR MEMORIAL COLLECTION
Virtual war memorials have their own section, which includes external links to websites with lists of casualties of war from a broad range of sources. The section can be ordered by organisation or by conflict.
5. TEXT SEARCH
A full text search option. The search term must be at least four characters long.
6. TOPICAl SEARCH
There are a few thematic series in the news section that includes related memorials.
RECENT POSTS
Victims of massacres in Prijedor Municipality
Type: Virtual Memorial
Names: 486

Massacre of Dhaka University students
Type: Virtual Memorial
Names: 59

MOST RECENT YOUTUBE VIDEO
The video shown inside the Cuboid (uploaded by Nordflut)
More about The Memorial to Homosexuals persecuted under Nazism
Animation of Reflecting Absensce on Youtube
More about World Trade Center Memorial